Back to blog
Over multiple sales cycles, retaining new customers adds significant extra revenue.
Today, service levels are a more important driver for customer behaviour than ever. For car leasing brokers that means that the work towards securing a renewal begins from your very first interaction with a potential customer, and continues throughout their whole lifecycle.
The better the service you provide throughout customers' interactions with you, including beyond the initial sale, the more likely they are to keep working with you. The challenge is to provide a consistent experience for your customers that can scale with your business. This requires a strategic approach and the right tools.
The benefits of this are two-fold. Firstly, the better the experience you provide, the more likely customers are to renew. Secondly, the more you focus on value through service, the less you rely on price as a distinguishing factor, increasing your potential margins.
The journey to a renewal starts from day one. Repeat business relies on creating a customer experience that provides value, and meets customers' needs to the point that they want to go through it again. That's why having accurate and accessible customer information is key.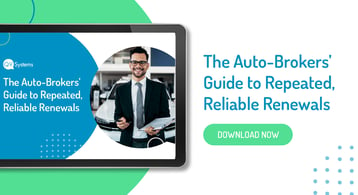 Prioritising Customer Insight
A modern customer experience should be personalised, simple and seamless. All of these require accurate data that you can easily and securely share between your team.
From the moment a prospect fills out an enquiry form, through the discovery and due diligence processes, it's essential to keep your records up to date in a way that your whole team can manage. The easiest way to do this is with the right CRM (Customer Relationship Management) solution.
Advantages of using a CRM
Consistency: Centralising information enables you to provide a consistent experience to customers. No matter which member of your team they're dealing with, your customer can be sure that you have all their information to hand and understand their needs.
Efficiency: By digitising your customer information instead of managing it on paper, you can reduce instances of lost data or mistakes in the sales process. Not only does this save you time, but it guarantees a better experience for customers.
Relationship building: The more you know about your customers, the more you can tailor your service to their unique needs and circumstances.
This helps your service stand out, while giving your customers more incentive to use you in future.
Accelerate
A CRM system is a must have for any customer-focused business. Accelerate by QV Systems is a flexible, end-to-end platform designed specifically for auto brokers. With in-depth CRM functionality you can centralise your key customer data and create a customer centric experience based on accurate information, for every deal, every time.
Track and tailor deals from enquiry to delivery and beyond, building valuable relationships that drive customer loyalty
Automate manual processes and minimise repetitive tasks to reduce unnecessary touch points while improving customer experience
Quickly assess and close deals with automated soft search and credit check functionality to spot issues in advance and improve conversions

With full, in-depth visibility over every deal and easy automation, you can spend less time on manual tasks and more time on customer service, building valuable relationships that drive reliable, repeatable revenue. To see Accelerate in action, book a call with our team.
Back to blog