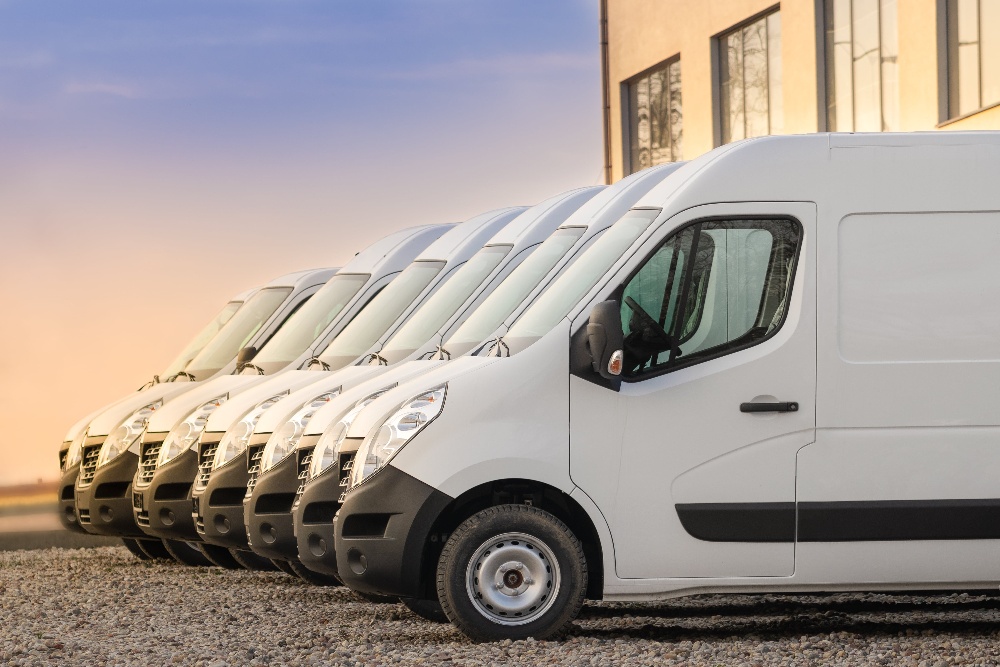 Back to blog
In a disrupted market, running an efficient fleet is more challenging than ever. Recent research reveals that 51% of fleet managers have had to make significant cuts to their operational budget. This comes at the same time as managers also have to observe new regulations and deal with travel restrictions.
For fleet managers looking to stay competitive, data is now an essential partner to improve efficiency and maintain performance. More and more vehicles are now generating, tracking and transmitting information with every mile travelled. By implementing the right systems and tools, fleet managers can create an end-to-end data process for their fleets that uses these insights to optimise every step of the journey.
Here are four ways to start using smarter vehicle data to deliver savings and improve ROI.
1.
Predictive vehicle maintenance
Vehicle repairs are costly and can lower fleet performance by taking vehicles out of circulation. However, strategic use of vehicle data provides the opportunity to catch faults before they turn into problems.
As telematics systems become more widely embedded in vehicles, fleet managers can track vehicle condition in real-time via on-the-road diagnostics and performance reports from onboard systems. By continuously monitoring vehicle conditions, including automated notifications for performance benchmarks, managers can perform targeted maintenance that minimises downtime.
This can also be done with existing, non-telematic data. Analysis of historical car data can help predict when a part needs replacement or a vehicle needs service. By aggregating previous breakdown information, managers can build models that track potential indicators of future failure and solve problems earlier.
2.
Maximising vehicle utilisation
One of the driving forces for mobility-as-a-service (MaaS) is the dream of eliminating idle vehicles. Currently, the typical car spends 90% of its lifetime parked. For fleet managers working with a one-vehicle, one-driver model, this leads to larger, inefficient fleets and increased costs.
The solution is to focus on moving people, rather than vehicles. By centralising user data according to location, journey and cost, fleet managers can create a connected view of the company's mobility needs.
This enables managers to focus on providing the most cost effective mobility solution, whether that's a vehicle, private transport or shared vehicle. This significantly reduces costs and increases ROI from each vehicle. Research shows that sharing vehicles allows managers to minimise idle time and maximise usage per vehicle, enabling smaller, more efficient fleets that can lower the total cost of mobility by up to 30%.
3.
Taking advantage of Green
National and local authorities are putting more pressure on drivers and fleets to reduce emissions. Already, twenty-four European cities accounting for 62 million people are set to ban diesel vehicles by 2030, while VAT incentives are being discussed to further incentivise usage of electric vehicles.
To take full advantage of these new circumstances, fleet managers will need to prioritise fleet transformation, starting with tracking and improving electric vehicle penetration. By monitoring vehicle lifecycles and prioritising electric upgrades, managers can build a future-ready fleet that delivers improved performance while also reducing overall costs. This includes taking advantage of all available tax reliefs, as well as lower insurance costs and higher resale value.

4.
Enabling efficient driving
Driver behaviour is one of the most important factors in the performance and efficiency of a fleet. For fleet managers looking to maximise value, tracking driving behaviour cannot only create a more eco-friendly approach behind the wheel but also reduce costs across fuel and maintenance. By using real data from drivers on pedal position, braking and acceleration, fleet managers can better understand how vehicles are really being used.
This data can then help educate teams on how to maximise performance. Existing programmes have successfully reduced fuel consumption, emissions, and part replacements. What's more, improving driver behaviour improves ROI across all vehicles in the long term by reducing replacement and improving per-vehicle value.
The new fleet technology stack
As businesses start to demand more accountability and value from their fleets, managers must learn to manage their costs and efficiency at scale. Technology is already playing an ever greater role in fleets, with 50% of fleet managers adopting new tools to boost efficiency in the last year alone. While we are still in the early stages of rollout, it is also clear that 5G will likely be a major tech revolution for the automobile and fleet management industry.
The increased speed and bandwidth of 5G networks allow many more devices to connect at once and share information. High performing fleets will need to prioritise the tracking, management and implementation of insights from their vehicles. For managers, data-literacy and technology strategy will become an essential part of delivering value.
The technology journey
Fleet managers must prioritise system upgrades in order to stay competitive in this new world. That starts with finding the right transformation partner.
QV Systems work with forward-thinking auto-leasing and fleet services businesses to assess processes, find opportunities and create unique solutions that help them prepare for the future.
Accelerate is the all-in-one cloud-based fleet management software platform that adapts to your business. Built on a single code base, you can easily integrate the features your need into current systems or replace your whole tech stack.
Centralise, track and leverage your fleet data to drive efficiency and performance improvements.

Automate manual tasks to save time, increase your product margins and focus on value add work

Quickly assess and close deals with automated soft search and credit check functionality to spot issues in advance and improve conversions.

Connect seamlessly to the rest of the finance ecosystem, including driver licence checks and risk management.
To find out how QV Systems can position your business for the future of mobility, get in touch with one of our experts today.
Back to blog