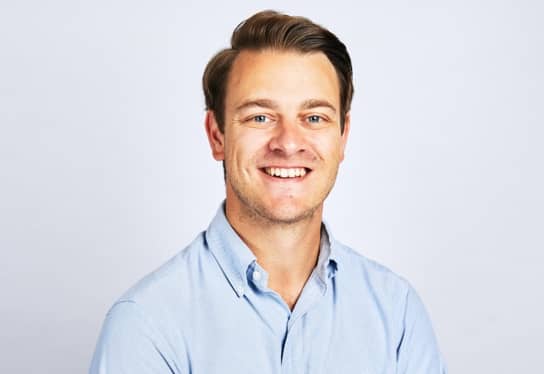 Back to blog
Our Pre-Sales Consultant, Dave, began his career at Volkswagen Financial Services in their Customer Services department. From there, he moved around the organisation and into the Fleet department as a Customer Services Manager, where he worked for 9 years. Before joining QV Systems, he worked on mileage logging for a SaaS startup.
Dave lives in Leighton Buzzard with his girlfriend and their dog Hedi, and has worked with QV Systems for a year and a half.
In this new Meet the Team blog, we spoke to Dave about life at QV, the best parts of his job and more.
How would you describe your job to a child?
I show people how clouds can make their life easier.
Can you give us a more specific overview of your role?
As a Pre-Sales Consultant, I work very closely with the sales team while they're structuring deals. I host discovery calls to find out what the customer is looking for and why. From there, I get to show off the system via a demonstration, which I tailor to each prospect's requirements.
Ultimately, I try to help prospects and customers achieve their strategic goals by finding out what their processes are, what they do now, what they want to do in the future, and share how QV Systems can service their requirements with market-leading functionality.
Can you sum up your standard day at QV Systems in three words?
Varied, challenging and fun.
Can you expand on that, what does a typical work day look like for you?
Every day kicks off with a team huddle and after that a lot of my day is spent supporting the sales team. This ranges from traveling to see clients, preparing and providing demos, working on documentation, and sometimes even hosting webinars.
What do you like most about your job?
That it's definitely a challenge, there's always something to do and no day is ever the same!
Was the challenge one of the reasons you chose to work for QV? What about the company helped it to stand out?
When I interviewed, QV Systems definitely felt like a good culture fit with a great, innovative team in a sector I have a real interest in. I was also originating my role, so it was exciting to build on the existing work the team had done and really make it my own.
What advice would you give to anyone wanting to become a Pre-Sales Consultant, or a similar role?
I'd say you definitely need to be enthusiastic about the environment you work in, with a real thirst for knowledge. Be open to learning new things, and never shy away from a challenge because problem solving and approaching things from different angles is really important in the role.
If you could switch jobs with anyone at QV Systems for the day, who would it be?
I'd switch with any of the Developers if it meant having their coding expertise!
If you could switch jobs with anyone in the world for the day, who would it be?
I'm a huge golf fan, so it would have to be Rory Mcilroy.
Back to blog